31 augusti – 12 september
Målningar och skulpturer
Bland målningarne vi ställer ut finns tavlor som varit utställda "Karl Momen, one man show" på nedanstående muséer och konsthallar.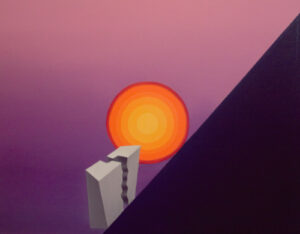 Strippe House Museum, Tokyo * Brigham Young Museum, Utah * Haus am Lützowplatz Cultur Center, Berlin * Nordic Heritage Museum, Seattle * Salt Lake Center, Utah * Sprngville Museum, Utah * Hillstrom Museum St.Peter, Minnesota * The Tech Museum, San José CL *
Swedish American Museum, Chicago * Krasl Art Center St.Joseph, Michigan * Royal Academy, Stockholm *
Karl Momen is an Swedish/American Iranian born painter and sculptor whose works are in public and private collections in Europe, Japan and the U.S. Here in America, Momen is best known as the creator of the epic 87'-tall "Metaphor: The Tree of Utah" sculpture that is located adjacent to Interstate 80 in the stark Bonneville Salt Flats region of Utah. This monumental sculpture, completed in 1986, is seen by millions of travelers each year.

Born in Iran 1934, Momen moved to Germany in the late 1950s and studied art and architecture there. In Germany he worked for both Max Ernst, one of the masters of Surrealism, and Le Corbusier, one of Europe's foremost architects. Momen moved to Sweden in 1962 and, after establishing himself as a successful architect, began to work full-time as an artist and sculptor in 1977. Since then his work has been exhibited in numerous museums and galleries shows and worldwide exhibitions including: Berlin Cultural Center – Berlin, Moderna Museet – Stockholm, Striped House Museum – Tokyo, Salt Lake Art Center – UT, Utah Museum of Art – UT., The American Swedish Museum – Chicago, IL, The Tech Museum of Innovation – San Jose, CA, Nordic Heritage Museum – Seattle, WA, "Nexus" exhibition at the Krasl Art Center – St. Joseph, MI, (where it was sponsored by the Michigan Arts Council and the National Endowment for the Arts), Monte Carlo Biennal's – (for international scuplture) Monte Carlo and Royal Academy of Art – Stockholm and many others listed in the EXHIBITONS section.
His ten-painting suite on the operas of Richard Wagner was by Seattle's Nordic Heritage Museum, which plans to add a new wing to the museum for permanent exhibition of this series of 67″ x 67″ works. Momen, who holds dual U.S. and Swedish citizenship, currently lives in Stockholm, Sweden, and frequently works in the U.S.A. at his studio.